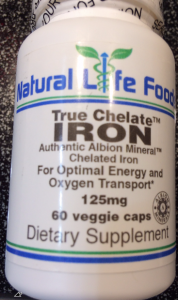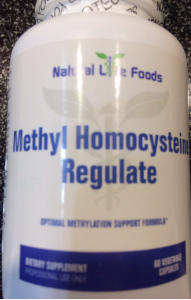 Iron to protect from  Anemia, (Vegan potential problem), One each per day to compensate for your avoidance of animal products 30 day supply for most people.
True Chelate, Iron:
Authentic Albion Minerals, chelated iron for optimal energy and oxygen transport
Each veggie cap contains: Ferrous Bis-Glycinate Chelate 125mg (providing 25mg of elemental Iron) other ingredients Rice Powder and Vegicaps (Cellulose, Glyscerin and water)
Taken with:
Methyl Homocysteine Regulate:
Riboflavin, 25 mg. (as riboflavin 5-phosphate sodium)
Vitamin B6, 10 mg. (as pyridoxal 5-phosphate)
Folate, 2,000 mcg. (1,000 mcg. as calcium folinate and 1,000 mcg. as Quatrefolic* (6S)-5-methyltetahydrofolic acid, glucosamine salt)
Vitamin B12, 1,000 mcg. (as methylcobatamin)
Betaine Anhydrous, 500 mg. (trimethylglycine)
A form of betaine called betaine anhydrous helps in the metabolism of homocysteine, a chemical involved in the normal function of many different parts of the body, including blood, bones, eyes, heart, nerves, and the brain.
Other Ingredients: HPMC  (capsule), stearic acid, silica, microcrystalline cellulose, magnesium stearate, and medium chain triglyceride oil.
In the brief call, I made to learn more about why to use these two product together Alexy Goldstein the formulator of the products answers the question.